Sunday December 15
Monitoring Monday night's storm
School Forecast for:
Tuesday December 17th
Last Updated: 7:00PM Sunday December 15, 2019
Delay No School Early Dismissal
0%
(Nope)
60%
(Medium) 10%
(Low)
Update: 7PM Sunday
Our next storm is still poised to affect the region Monday night into Tuesday. This storm is still very likely to bring us snow and sleet, however, adjustments to the timing are warranted at this time.
Click image for larger and clearer version
In last night's post, it was noted that the positioning of the storm would affect the start time, and that this was a source of uncertainty. Over the past 24 hours, there has been a definitive trend for a later starting storm than previously forecast. At this time, it appears that snow will overspread Ulster County from south to north very slowly. It may take the storm as much as three hours to overspread the County. In northern areas, such as Kingston and Saugerties, most data today has supported start times closer to 3AM Tuesday, with the complete range being from 1AM to 7AM. As far as potential accumulations, there really hasn't been much change on the overall thinking. Over the past 24 hours, there appears to have been a very slight trend toward more snow and less sleet. At this time, most likely looking at around 3 inches of snow before the storm ends by Tuesday evening.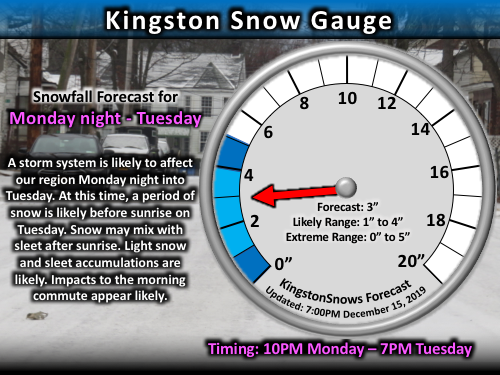 Click image for larger and clearer version
As far as potential impacts, temperatures will support road impacts. Monday's highs should only make it to the mid-30s before falling to the mid/upper 20s Monday night. Temperatures will likely hover around 30 for most of the storm. Once snow/sleet begins falling, road conditions are not likely to improve until the late afternoon, so delays are not currently anticipated. IF the anticipated start timing remains as currently projected, with snow developing by about 3AM, then closings appear more likely than not. IF we do see a continued trend toward later start times (after 6AM), then it is possible that early dismissals could become a consideration, especially for northern districts such as Saugerties.
Next Update:
Monday Evening
--------
8:00PM Saturday
The upcoming week will start off quite, but a storm system looks likely to result in frozen precipitation Monday night into Tuesday. Dry weather will prevail for the second half of the week, but temperatures will plunge as an arctic cold front moves through.
Click image for larger and clearer version
The week starts off dry. This weekend's storm which resulted in damp and foggy conditions will move out of the region on Sunday. Dry weather will persist into Monday. However, clouds will thicken as Monday progresses. Our next storm will arrive Monday night. It will be in the form of a plume of moisture that approaches from the southwest. As the moisture arrives in NY it will collide with cold air. This will result in snow. As the storm progresses, the storm will likely erode the colder air higher in the air, leaving colder air trapped near the ground. This would result in a transition to sleet. A change back to snow may be possible before the storm ends.
Click image for larger and clearer version
At this time, the storm is most likely to begin as snow Monday night in the 7PM to 1AM timeframe. A change to sleet is likely closer toward morning. We can't completely rule out either some liquid or frozen rain mixing in at some point. Precipitation is most likely to end around mid-day Tuesday. Light to moderate snow and sleet accumulations will be possible. There is some uncertainty at this time. Timing: because the precipitation will be organized in a plume, its angle and position as it approaches will most influence the exact timing. Amounts: the most significant factor for any accumulations will be how much sleet mixes in with any snow. Sleet does not accumulate as well as snow, so more sleet = less accumulations. The ultimate intensity of the precipitation is obviously another factor.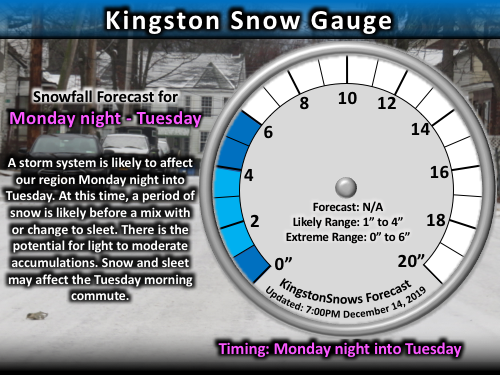 Click image for larger and clearer version
The storm will clear by Tuesday night. On Wednesday an arctic cold front from Canada will move through. Can't rule out some brief snow showers or flurries Wednesday afternoon, but the real impact will be the temperatures. Temperatures are likely to fall to the low teens for the second half of the week, with afternoon highs remaining in the 20s.
Next Update:
On Sunday
KingstonSnows ♦ Kingston, NY
236146 Visiting Snowflakes
Since January 2009
Archive of Updates
page revision: 1, last edited: 16 Dec 2019 01:45