Friday March 17
Monitoring Another Storm
School Forecast for:
Monday March 19th
Last Updated: 10AM Friday March 16, 2018
Delay No School Early Dismissal
0%
(Nope)
0%
(Nope)
0%
(Nope)
The Forecast
10AM Friday
The next few days will remain calm with clearing skies, however, Kingstonsnows is monitoring the potential for another storm toward the middle of next week. This storm has been on our watch list since Tuesday night, and confidence has been gradually increasing in another potential round of snow for Wednesday.
The main piece of energy that will trigger the next potential storm is currently over the Pacific. This system will gradually slide eastward over the next few days, ending up around Kentucky/Virginia by Tuesday morning. What happens next will depend on how the system interacts with another piece of storm energy that is currently over northern Canada. The more the two systems interact, the higher the chances are for a nor'easter to develop when they reach the east coast. Less interaction would favor a weaker system that has less impact. Since Tuesday, the trend has been for slightly increasing interaction with at least a weak nor'easter developing by Wednesday. In this scenario, a period of snow with the possibility of several inches would be favored on Wednesday. But with the event being five days away these is ample room for adjustments either toward a greater or lesser impact. For now, we'll just watch how the pieces evolve - Sunday is when we should hopefully have a decent idea of what to expect.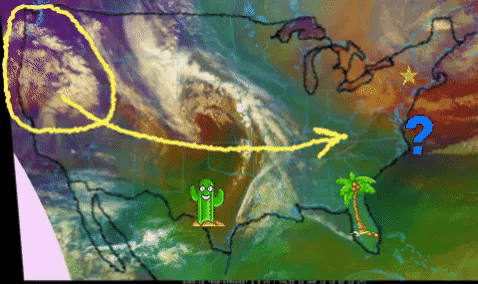 Caption: Current satellite imagery depicts the main clouds associated with next week's potential storm over the West Coast (yellow circle). The energy associated with these clouds will slide eastward across the middle of the country (yellow arrow) before possibly spawning another nor'easter off the east coast (spiny question mark). The cactus is over Texas, the palm tree is over Florida, and the star is over Kingston. The spiral clouds in the middle are a different storm that will not affect us.
---
---
March's Lions
Updated: March 16, 2018
"In like a lion, out like a lamb," that's how the saying goes, right? Well this month has certainly lived up to the expectation across the northeast. After a rather calm February, the March weather pattern has switched to something fierce. In the past two weeks three very powerful nor'easters have battered the northeastern states. Each storm produced significant snowfall and most locations from Binghamton to Boston to Maine have recorded over two feet of snow this month (including much of Dutchess County). Here in Ulster County, these storms have really produced varying impacts with the first having been a mainly rain event, the second a significant snowfall, and the third a light snowfall event.
Caption: The comma shape in these three satellite images of this month's nor'easters indicates that these storms were well developed and powerful. For size context, the three purple dots in the top left are Washington, NYC, and Boston. Kingston's impacts are written below each storm. Click image for larger version.
The 10.5 inches of snow that fell on March 7th was the 10th largest snowstorm that Kingston has experienced since at least November 2004. Thanks largely to this storm, March has now become the most snowy month of the winter with a total of 13.3 inches of snow. The total snowfall for the season now stands at 45.9 inches, which is slightly above the long term average of 44 inches. Depending on what happens with next week's potential storm, it is likely that this winter's snowfall will reach or exceed the Kingstonsnows forecast of 48 inches. This forecast was issued back on December 12th with an 80% chance of the season total snowfall being between 35 and 61 inches.
Image caption: This winter's snowfall (Pink Line) is now slightly above average, and is 2.1 inches shy of the Kingstonsnows forecast of 48 inches. Click image for larger and clearer version.
Image caption: This winter's snowfall is just shy of the season forecast of 48 inches. Click image for larger and clearer version.
Spring officially arrives Tuesday at 12:15PM
---
February sets Records
March Arrives
Updated: February 27, 2018
February 2018 will be remembered for its warmth. With just one day left in the month, it appears certain that this will be at least the 3rd warmest February on record and may just barely edge into the number 2 spot. Thanks to last week's record breaking heatwave that encompassed the entire east coast, 2018 also now holds the record for warmest temperature ever recorded in the Mid Hudson Valley during the month of February. Last Thursday's temperature at the Dutchess County airport reached 76 degrees during the heatwave beating the previous all-time record high temperature of 73 which was set just last year. It is also worth nothing that on the same day, LaGuardia airport in NYC reached 79 degrees which was the warmest temperature ever recorded in New York State during the month of February.
Needless to say, this warmth has not been good for the snow. Kingston recorded a total of 10.1 inches of snow this month, which is about 5 inches below average. Over the past 13 seasons, only four Februarys have recorded less snow than this year. The current season snow total stands at 32.6 inches, which is about four inches below average. At the beginning of the month, it was noted that seasons that record no weeks with at least 10 inches of snowfall in February have an 80% chance of ending below average, while seasons that have at least one week with 10 inches of snow in February have less than a 40% chance of ending below average. The most snow in a one week period this month was 5.4 inches, and so February 2018 has failed to reach the 10 inch weekly threshold. Because of this, it will be statistically difficult for this season to reach the normal season snowfall amount of 44 inches. Short of a well-placed nor'easter that drops a lot of snow at once, winter 2018 is likely to end slightly below average. On average March produces about seven inches of snow.
Image caption: This winter's snowfall (Pink Line) dipped slightly below average in February. Click image for larger and clearer version.
Image caption: Kingston is likely to reach the "Likely Range" that was initially forecast back in early December, but it will probably take a strong nor'easter to reach the forecast 48 inches. Click image for larger and clearer version.
All 2017 Photos of The Month have been updated.
Check them out via the link on the side and feel free to share any of your photos on Facebook!
Kingstonsnows ♦ Kingston, NY
111107 Visiting Snowflakes
Since January 2009
Archive of Updates
page revision: 0, last edited: 19 Mar 2018 20:27